Crystal Marina Bay: The project connecting esteemed partners
Privately-held Crystal Bay Group officially launched the world-class beach resort and entertainment complex Crystal Marina Bay in North Nha Trang in the central coast.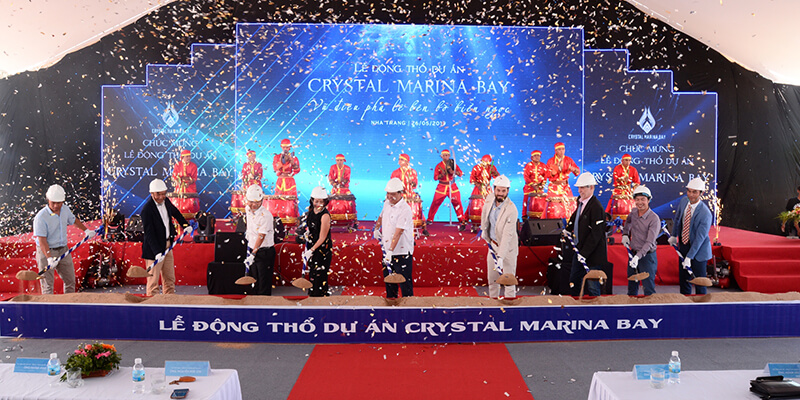 The groundbreaking ceremony of Crystal Marina Bay complex on May 26, 2019
The Crystal Bay Group officially kicked-off the construction of Crystal Marina Bay, the largest international beach resort and entertainment complex in North Nha Trang in the north-central coastal province of Khanh Hoa, on May 26, 2019.
Once completed, Crystal Marina Bay would become a high-end tourism destination, bringing many unique new experiences with abundant entertainment activities for visitors to the coastal city of Nha Trang.
New imprint in North Nha Trang
Located in the centre of ​​North Nha Trang, well-located Crystal Marina Bay is built at Ana Marina Park (Fatabaya) with a view to embrace the whole view of Nha Trang Bay and the entire beautiful coastal city.
This is also one of valued areas with the largest potential for development in Nha Trang in the future.
With the design inspired by the dance of the beach fairies, the international beach resort and entertainment Crystal Marina Bay has total tourism service facilities covering up to 106,207 square metres in two 33-storey towers, with trees, landscapes and services taking up 74 per cent of the total project area.

When in operation, Crystal Marina Bay will become a world-class destination to experience abundant entertainment activities for visitors with hundreds of high-end international standard amenities, like beach sports activities, beach walk, kids club, indoor entertainment area, infinity pool, VIP movie theater system, Nha Trang's biggest shopping mall, beauty spa, international convention hall, and more.
Especially, for the first time in Nha Trang, the complex will have a high-tech interactive entertainment centre, where visitors can go to the ocean to interact with dolphins, corals and marine life, or be lost in the land of fairy tales.
The birth of Crystal Marina Bay international beach resort and entertainment complex with nearly 2,000 ApartHotels on par with five-star international standards will significantly meet the tremendous demand for luxury resorts that Crystal Bay Group is bringing to Nha Trang every year.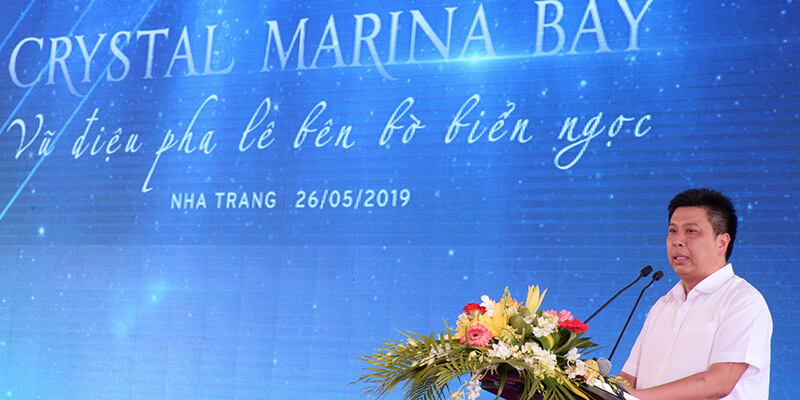 Nguyen Duc Chi, chairman of the Board and general director of Crystal Bay Group
At the project's groundbreaking ceremony, Nguyen Duc Chi, board chairman and general director of Crystal Bay Group, said "Crystal Marina Bay international beach resort and entertainment complex is the first project to be developed at Ana Marina Park (Fatabaya), with the goal of turning Nha Trang into an appealing destination to all visitors, a new paradise in Asia and the whole world. By virtue of a world-class tourism ecosystem, Crystal Marina Bay will have a strong attraction towards visitors with longer stay and future comeback."
To ensure smooth implementation of Crystal Marina Bay project, Crystal Bay Group has teamed up with esteemed partners both at home and abroad, including design consultant Philippe Pierga Design (France), construction contractor Delta Group, construction supervision consultant Artelia Group (France) to satisfy demanding progress and quality factors.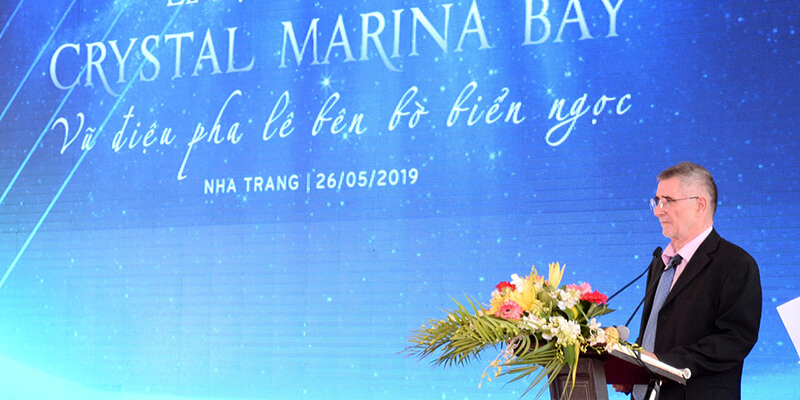 Bruno D'arcangues, director of Artelia Company- the project construction supervision consultant, giving speech at the groundbreaking event
Meeting the thirst for travel services
Crystal Marina Bay is expected to create a driving force to promote Nha Trang's tourism sustainable development while helping to resolve overloaded and imbalanced urban transport infrastructure and shortages of tourism and entertainment attractions, and high-class accommodations in the central region.
The Tran Phu-Pham Van Dong road axis has long been an important highlight of Nha Trang with a series of new hotels with sweeping views of Nha Trang Bay, making an important contribution to the success of the tourism industry in the past.
According to statistics, in 2018, Khanh Hoa welcomed more than 6.3 million visitors, a 16.7 per cent jump on-year; of which international visitors accounted for 2.8 million, an increase of over 37.8 per cent. Total revenue from tourist accommodations was estimated at VND20.524 trillion ($892 million), up 20.7 per cent.
However, due to the high number of tourists in the centre of ​​Nha Trang while the infrastructure fails to keep pace with, in addition to frequent traffic jams, the development in the west and the north of Nha Trang city is one of Khanh Hoa province's top priorities to promote tourism development in the long term.
Many new projects have been licensed along the Pham Van Dong road, bringing a facelift to the city's northern areas in a modern direction and growing into a new tourism and resort centre of the city.
Not only developing the internal road system, this area also features coastal arterial road with National Highway 1A connecting local tourist destinations like Monkey Island and Hoa Lan Island and attractions in nearby locations such as Quy Nhon and Phu Yen. The flow of domestic and European tourists along with entertainment spots also tend to move to this area.
In anticipation of that trend, Crystal Bay Group and its partners have developed Ana Marina Park. The perfect combination between Ana Marina Park and Crystal Marina Bay world-class beach resort and entertainment complex would create an exciting destination that attracts thousands of tourists every day when going into operation.
Crystal Bay Group has now brought 60 per cent of Russian visitors to Vietnam, using 4.3 million rooms/night in Nha Trang, Ninh Thuan, Binh Thuan and Phu Quoc in 2018. With its strength, Crystal Bay could bring an uplift in the number of international visitors to Nha Trang, especially high-class tourists from Europe, continuing the development momentum for Nha Trang tourism.
Previously, on May 3, 2019, Crystal Bay Group signed a contract to cooperate with KW Phuc An who will become the development agency and Hoang Mai Media to become the marketing and communications agency for the project. Crystal Marina Bay will be administered and operated by Crystal Bay Hospitality, a member company of Crystal Bay Group.