Experts upbeat about real estate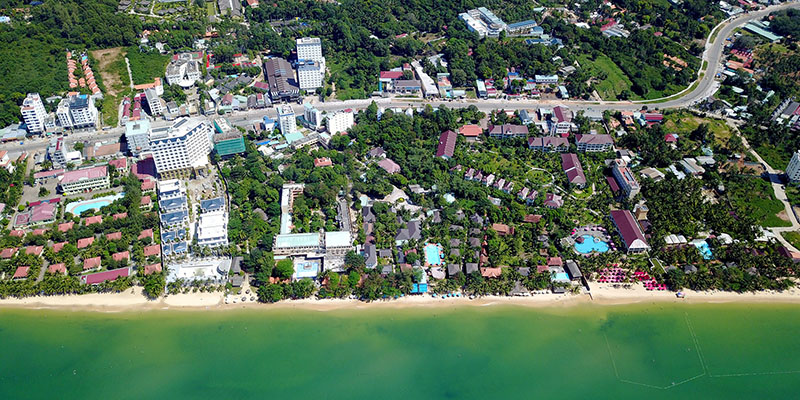 Hotels and resorts along Trần Hưng Đạo Street in Phú Quốc Island.
Experts remain upbeat about the development of the property market next year, driven by huge market demand and new real estate development trends.
According to Nguyễn Trần Nam, chairman of the Việt Nam Real Estate Association, the real estate sector still had momentum for development next year and this would continue for the next 30-50 years.
Under the national housing development strategy, each year, Việt Nam, with a population of 96 million and rapid urbanisation, would have to develop around 100 million sq.m of residential areas each year, creating opportunities for developers, Nam said.
"The liquidity of the real estate market will improve if developers make the right decisions about the locations, segments and time for their projects," he said.
Nam added that Vietnamese developers should also promote cooperation with foreign companies with financial capacity in property development in the condition that the credit for real estate was being tightened and most Vietnamese developers remained small.
Nam said that the number of successful transactions in January- September was around 60,000 units, 50 per cent higher than the total in 2015. "With increases in successful transactions, stable prices and high occupancy rates of housing projects, I think that the real estate market will continue to grow in the next few years."
Nam said the Government was expected to issue regulations regulating new property products like condotels and officetels, which would help promote their development and ensure the sustainable development of the real estate market.
Lê Hoàng Châu, chairman of HCM City Real Estate Association, said that the market would see new trends such as the development of smart homes, smart urban areas and green buildings which use renewable energy, environmentally-friendly materials and apply new technology.
Nguyễn Trọng Thức from CBRE Việt Nam said the rapid development of the transport infrastructure system in provinces and cities rich in tourism potential was also creating momentum for the development of resort properties, like in Bà Rịa – Vũng Tàu, Nha Trang, Đà Nẵng and Phú Quốc.
According to Adam Bury, senior vice president of investment sales, Asia Pacific, Hotels & Hospitality Group at JLL, there was a surge in international hotel operators moving into Việt Nam, which would help promote the development of the resort and hotel property segment.
Office for lease also had opportunities for a boom, driven by the start-up trend in Việt Nam, he added.
Nguyễn Chí Toàn, marketing manager of Việt Nam – Singapore Industrial Park in the northern and central regions said that the industrial land segment was also supported by positive information from the Comprehensive and Progressive Agreement for Trans-Pacific Partnership (CPTPP) which would take effect from the end of this year.
The CPTPP was expected to create a shift in investment by multinational corporations to Việt Nam to enjoy tariff cuts.