Risks in fledgling condotel segment
Despite the lack of a legal framework and phantasmagoric profit commitments, condominium-hotels (condotels) have been one of the most attractive property products among buyers. Bich Ngoc reports.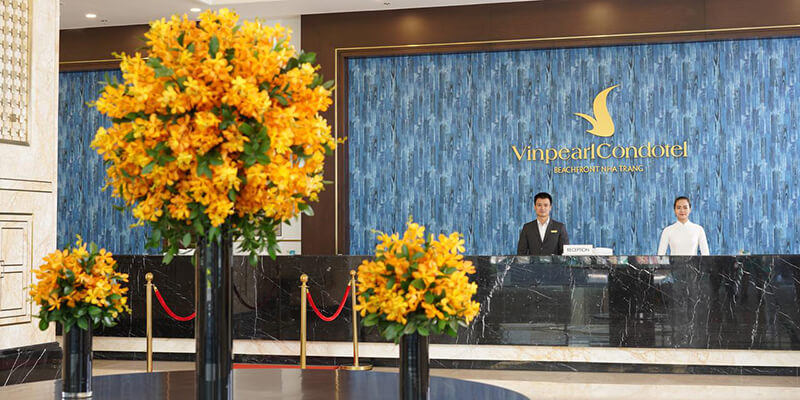 A relative newcomer to the market, condotels need much clearer regulations to ensure transparency and safety for buyers and developers alike
Nguyen Hoang Linh, a 45-year-old man from Ho Chi Minh City, was considering buying a condotel unit at Ocean Vista, a condotel project in the central province of Binh Thuan.
According to the project's developer Rang Dong Group, with 300 days in use every year, the project can have 35-50 per cent room occupancy with the rental rate of $200 per day.
"Apart from reserving 20 days per year for my own use, I can have stable rental income around the year, and this profit rate can return owners' capital in 10 years. I think this is attractive enough for me," Linh said.
Due to their good profit commitments, condotels have been very attractive for buyers in the last three years, with more and more capital being poured into the segment by domestic and foreign investors.
Market observers said the tourism sector has seen rapid growth in recent years, with the number of foreign tourists arriving to Vietnam increasing by 30 per cent per annum in the last three years, leading to the surging supply of resorts, hotels, and condotels.
Another reason for the booming condotel market is the growth of the Vietnamese middle class. With the cost of VND1-3 billion ($43,500-130,500), most middle-class earners can afford a unit as their second-home as these properties double as investment due to their rental yield.
Big investors such as Vingroup, Sun Group, and CEO Group have been investing in condotel projects.
According to figures from the Vietnam Real Estate Association (VNREA), more than 12,500 out of the more than 22,800 available condotels were traded successfully in 2017 in major destinations like Danang, Khanh Hoa, Phu Quoc, and Binh Thuan in the central region, as well as in the northern province of Quang Ninh.
According to the VNREA, Khanh Hoa has the most condotels, with the number of more than 11,800 apartments, followed by Danang (more than 7,000), while newcomer Quang Ninh launched 1,300 condotel apartments as of 2017.
According to the Vietnam Association of Realtors, it is only since 2017 that there has been a boom in the supply of properties and condotel resort transactions.
Outstanding projects include Vinpearl in Nha Trang, Phu Quoc, and Danang, as well as Grand World Phu Quoc, Best Western Premier Sonasea Phu Quoc, Movenpick Resort Waverly Phu Quoc, Coco Ocean Resort Danang, and Ariyana Smart Condotel Nha Trang.
According to Trinh Van Quyet, chairman of the Management Board of FLC Group – a developer building thousands of condotel units nationwide – condotels had a remarkable impact on the market since they added a strong new supply to the hospitality segment which has been in serious shortage.
"This new supply contributed a meaningful resource for tourism development, creating more jobs, attracting foreign currency, and bolstering the state budget," Quyet said.
For developers, according to him, this is an effective channel for capital mobilisation. Developers can sell their condotels and collect the proceeds from the sale but not from leasing. After selling to buyers, developers can represent owners to lease out the units to collect rent and share it with the owners.
"The proceeds from selling condotels come from buyers – which means it comes from the real demand and has less risk, and helps developers reduce their dependence on bank loans, which have become tighter," Quyet said.
Meanwhile, for buyers, condotels are an effective source of stable rental income without the need to manage or lease out the units on their own.
Legal risks
However, Pham Thanh Hung, deputy chairman of CEN Group, warned that even though the condotel segment has developed much during the past years, it remains fraught with legal risks, especially when it comes to the issuance of red books to buyers. "A clear legal framework will reduce risks for all participants, from developers to investors," Hung said.
According to statistics from the Ministry of Construction, in the 2015-2018 period, over 25,000 condotels were launched nationwide.
According to Nguyen Hoai An, director of CBRE Vietnam's Hanoi Branch, condotels are a good economic concept for the sharing of burdens and benefits between buyers and developers. "Unlike with expensive resort villas, condotels are more suitable for small side investors and individuals. Their liquidity, therefore, is also high and they attract many buyers."
Doubtful profit commitments
In order to successfully sell their condotels, many developers have made profit commitments of 10-15 per cent a year to buyers. While lauding the market's potential, industry experts, however, are in doubt about these claims.
Kai Marcus Schröter, ­general director for Hospitality Tourism Management (HTM), said that the condotel model was popular in the Mediterranean and Europe around 20 years ago, and in Thailand 10 years ago. However, its disadvantages have become apparent in the time since and condotels have been on a downward trend. This was caused by ineffective business results in these countries, which explains why the model is essentially non-existent in the Asia-Pacific region. "I have not seen profit commitments of 10 per cent a year anywhere else in the world," he said.
Schröter believed nowhere can developers commit such a high profit rate because tourism has its high and low seasons, while occupancy and rental fees also cannot be stable.
Meanwhile, Adam Bury, senior vice president, Investment Sales Asia at JLL Hotels & Hospitality Group, said that the 10-15 per cent profit was mostly for advertising.
"Such profit rates are not offered in other countries. In Vietnam, developers are offering such profit because they do not quite understand this type of property. The most important factor for them is to successfully sell condotels to buyers, and they do not worry about how to get such high profit through the lease programme," Bury said.
"Condotels can only reach such high profits when they are located in famous tourist hotspots and receive a strong and steady flow of tourists throughout the year," he added. "The developer may be able to maintain this profit commitment for one or two years, but it is not feasible for the whole 10 years," he said.
Nguyen Manh Ha, deputy chairman of the VNREA, also agreed that profit commitments are too high and can bring many difficulties to developers.
"The profit is attractive to customers, but if it is too high, up to 12-15 per cent, developers will run into difficulties. It is not true that all places have high occupancy, especially as the tourism market is becoming more competitive," Ha said. "Buyers should be warned about this. When they invest, they have to bear the risks. The more profitable the condotel, the higher the risk," he added.
However, since late 2017, there have been signs of oversupply in the condotel segment, with too many developers jumping into the segment, a trend which turned into a lull in 2018 and the first quarter of 2019.
Condotels need to be shored up by legal framework
The lack of a legal framework has been the reason behind recent disputes between buyers and management companies over the ownership and maintenance of condotels.
Three years after the first condotel appeared in Vietnam, the related legal framework has yet to be finished and no one knows when the hole will be filled, especially as the government recently suggested delaying the revision of the Law on Land to 2020 instead of 2019.
The current laws of Vietnam do not have clear regulations regarding the ownership rights and management of condotels, as they are a relatively new type of property in the country.
Under the Law on Land, developers can lease land for a maximum of 50 years. In order to sell condotels, they advertise that this time can be extended, but there is no regulation to this effect.
Meanwhile, under the Law on Tourism, a condotel is merely a hotel project, therefore, it is not eligible to be granted a land-use certificate.
Due to this mismatch, most condotel buyers have not been granted land-use rights and ownership certificates.
According to Nguyen Trong Ninh, director of the Agency for Housing and Real Estate Market Management under the Ministry of Construction (MoC), the term "condotel" has not appeared in the ministry's legal documents before.
Condotels are a combination of condominiums and hotels, so they must be managed and regulated by the tourism authorities and developers doing business in condotels must be authorised by the Vietnam National Administration for Tourism, according to Ninh.
However, other experts argue that as condotels are a new type of property, they must be regulated by the MoC.
For the time being, Ninh said the MoC is setting up standards for condotels which are expected to be included in the revised Law on Land.