Vietnam real estate outlook sparks foreign investor rush
'In Vietnam, the rapid advancement of the middle and affluent classes is promoting the next wave of demand.'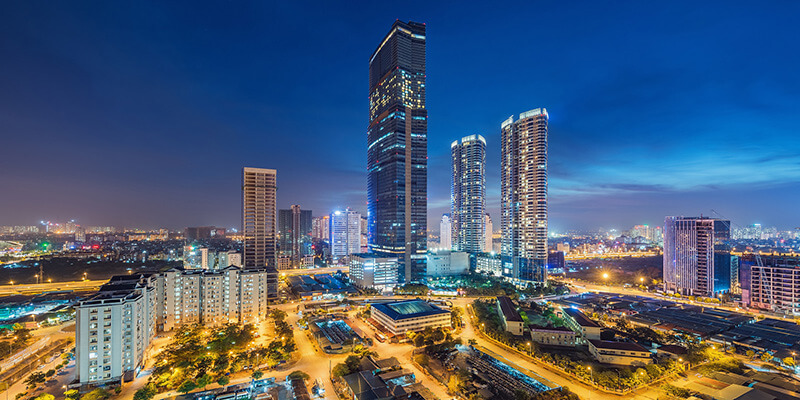 Hanoi cityscapes. Photo: Thien Thach
Ranked high for development prospects in the Asia-Pacific region, Vietnamese real estate is attracting increased investment interest.
Big names in the global real estate industry are choosing Vietnam as their next investment destination because it shows great potential for future development, a recent report says.
Tokyo-based Nomura Real Estate made a notable transaction in January when it bought a 24 percent stake in Ho Chi Minh City's Sun Wah Tower.
The Asia Pacific Investment Quarterly report for the first quarter of 2018 says that the purchase of a stake in the grade A building in HCMC's District 1 shows that the city's office market continues to record healthy demand and high occupancy.
The report, prepared by global real estate service provider Savills, says that apart from office spaces, the hospitality sector in Vietnam is also seen as an attractive investment option for foreign investors.
Japan's Mikazuki Hotel in January announced plans to invest $100 million in a project in the central Da Nang city.
The development will include a five-star hotel, a waterpark and a food-and-beverage complex on an area of 11.5 hectares.
Another real estate segment that has been attracting developers is the mixed-use projects with residential components in major cities.
Singapore-headquartered real estate firm, CapitaLand, acquired in March a 0.9-hectare prime location in Hanoi's Tay Ho District which has 380 residential units and over 21,000 square meters of office space.
This latest deal expands the company's portfolio to 12 residential developments, one integrated development and 21 serviced residences across six cities in Vietnam, the Savills report said.
These acquisitions show that Vietnam continues to draw investment interest, and Ho Chi Minh City stands out on investors' lists, securing top positions for investment and development prospects in Asia Pacific, it added.
Demand wave
"In Vietnam, the rapid advancement of the middle and affluent classes is promoting the next wave of demand," said Simon Smith, head of Research and Consultancy at Savills Hong Kong.
Demand for premium property will continue to rise as the number of middle class citizens is expected to reach 44 million by 2020 and 95 million by 2030, estimates market research firm Nielsen.
Foreign investors are also showing interest in Vietnamese real estate because the country has been seeing a record-high number of international tourists, the Savills report said.
In the first five months this year, 6.7 million tourists came to the country, an increase of 27.6 percent compared to the same time last year. Average growth in the number of international tourists visiting Vietnam reached 30 percent in the last three years.
Another reason for the increased presence of foreign investors is the result of the modifications to Vietnam's housing law, said Professor Dang Hung Vo, former Deputy Minister of Natural Resources and Environment.
The barriers in Vietnam's pre-2014 legal framework had made foreign investors doubt their chance to succeed in the country's real estate market, Vo told VnExpress International.
But Vietnam has shown more openness with the 2014 housing law, which allows foreign investors to own property up to 50 years with the possibility to renew for another 50 years.
The law also allows foreign business to own properties in the country after obtaining permission from local authorities.
Positive changes in the legal framework have helped, too.
"It took time for international investors to believe that Vietnam is actually unlocking the door of opportunities for them," Vo said.
He also said that the presence of international investors in the country will be a challenge for local real estate investors, as most of them don't have the ability to compete with foreign firms with higher budgets.
"But this will also be a great opportunity for them to increase their capabilities," the former deputy minister said.